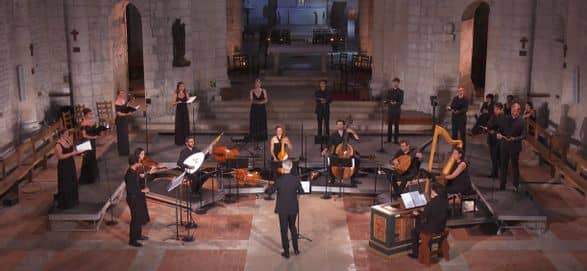 "Membra Jesu Nostri" European tour
Correspondances embarks on a European tour, travelling through France, Belgium, Spain, Switzerland, the Netherlands and Poland during the Lenten season with a special programme: the "Membra Jesu Nostri". This cycle of seven sacred cantatas written by Buxtehude on the Passion of Christ immerses the listener into the mystical world of Lutheran music. A mysterious beauty emerges from these pages dedicated to the last hours of Christ.
Discover here the presentation of this programme by Sébastien Daucé.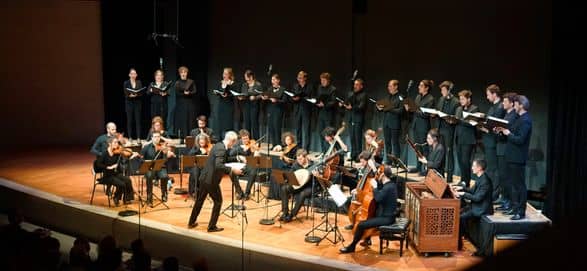 "Au Service de Sa Majesté" is on air
The concert "Au Service de Sa Majesté" is now available for listening on France Musique!
This recording made during the concert at the Louvre Auditorium will allow you to discover this new program which plunges the listener into the heart of the Royal Chapels of England and France.
Listen to this program here.
Latests Videos
---
Teaser « Locke : Psyche » | Ensemble Correspondances, Sébastien Daucé
---
The Correspondances ensemble at the Louvre Museum
For a concert, the Ensemble Correspondance takes over the Salle des Caryatides of the Louvre Museum. It will perform works by Lully, Cavalli and Boësset.
---
Perpetual Night | Ensemble Correspondances
Recording made at the Boston Early Music Festival 2021
---
Teaser « Perpetual Night » | Ensemble Correspondances
Fondation Correspondances
In order to serve the independence and excellence of its work, Correspondances has created the Fondation Correspondances, with the aim of restoring the musical repertoire inherited from the century of the Sun King. Designed to promote the Baroque more widely, the foundation is setting up a network of philanthropists committed to this objective.